Golf Confidential – Writing, 07/01/2014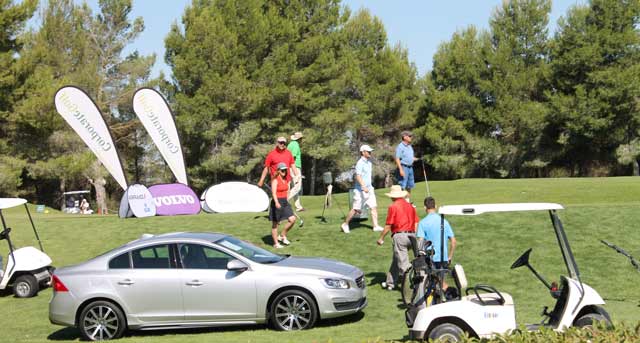 For the fifth year I visit the Corporate Golf Club de Golf Las Pinaillas. The Corporate landed Circuit this Saturday, June 28, in one of the funniest golf Castilla la Mancha.
Golf Confidencial – Redacción, 01-07-2014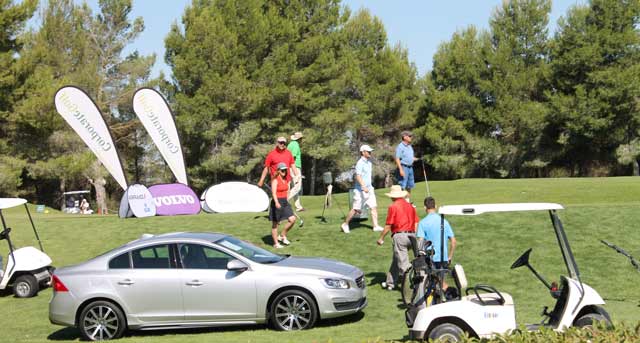 Por quinto año consecutivo Corporate Golf visito el Club de Golf Las Pinaillas. El Circuito Corporate aterrizó este sábado, 28 de junio, en uno de los campos más divertidos de Castilla la Mancha.
Club de Golf Las Pinaillas dressed up for an unmissable event in their calendar. The great excitement during the week presage a huge competition, more than 140 players enjoyed a truly spectacular event.
From early in the morning and bright sunshine, gathered more than one hundred forty players, who insisted their best endeavors to beat a magnificent golf in a tournament full of details .. The outputs are held from 8:30 am to beyond 14:00 h with full house …. and a great day of golf ahead.
All players were greeted by the gorgeous hostesses Corporate Golf in the hospitality welcome Volvo, Air France Klm and Illy Space, where we could delight in a spectacular display with the latest models of Volvo, the delicious illy coffee and great welcome pack gifts tournament with all sponsors Circuit.
A halfway incredible willingness tent supplies and refreshments Corporate Golf where players could regain strength with Heineken Premium Beers, Laurent Perrier champagne binocular with a Corner of Schweppes, Marques de Riscal wines, Chapatitas, refreshing fruit and energy drinks.
At the end of the tournament, the traditional awards ceremony where all participants and guests could toast their big game with different Premium Corners and a magnificent cocktail was held, not to mention the spectacular Beefeater 24 Gin Club and great tasting Marques de Riscal the winery tour for Corporate excellence.
After the awards were the traditional prize draw … a truly spectacular display over 40 gifts and golf equipment, golf bags, wedges from Cleveland Golf, Magnums of Laurent Perrier and Anna de Codorniu gifts Shoes Saint John, Cleveland, Srixon, Volvo, Reboraina, Beefeater 24, Heineken, Socketines, Iberian Blazquez, Capricho Andaluz, Marqués de Riscal book, God Save My Swing poles, Birdigan among others … and more than 6 trips weekend.
The winner will defend to the Club de Golf Las Pinaillas in the Grand National Final and later at the International Corporate 2014 Final Circuit at Le Touessrok Golf Course in Mauritius was Joaquin Rodriguez with spectacular results of 43 Stableford points.
Club de Golf Las Pinaillas se vistió de gala para recibir una cita imprescindible en su calendario. La gran expectación durante la semana hacía presagiar una grandísima competición, más de 140 jugadores disfrutaron de un torneo verdaderamente espectacular.
Desde primera hora de la mañana y bajo un sol radiante, se dieron cita más de ciento cuarenta jugadores, que empeñaron sus mayores esfuerzos en batir a un magnifico campo en un torneo plagado de detalles.. Las salidas se realizaron desde las 8:30h hasta mas alla de las 14:00h con lleno absoluto ….y con un gran día de golf por delante.
Todos los jugadores fueron recibidos por las guapísimas azafatas de Corporate Golf en el hospitality de bienvenida de Volvo, Air France Klm e Illy Space, donde pudimos deleitarnos con un espectacular despliegue con los últimos modelos de Volvo, el riquísimo café illy y del gran welcome pack del torneo con regalos de todos los patrocinadores del Circuito.
A mitad de recorrido estaba dispuesta la increíble carpa de avituallamiento y refresco de Corporate Golf donde todos los jugadores pudieron retomar fuerzas con Cervezas Premium Heineken, bindar con champagne Laurent Perrier, un refrescante Corner de Schweppes, vinos de Marques de Riscal, Chapatitas, fruta y bebidas energéticas.
Al término del torneo, se celebro la tradicional entrega de premios donde todos los participantes e invitados pudieron brindar por su gran juego con diferentes Corners Premium y un magnifico cocktail, sin olvidar el espectacular Gin Club de Beefeater 24 y una estupenda cata de Marques de Riscal, la bodega por excelencia del Circuito Corporate.
Tras la entrega de premios hubo el tradicional sorteo de regalos… un despliegue verdaderamente espectacular, más de 40 regalos y material de golf, bolsas de palos, wedges de Cleveland Golf, Magnums de Laurent Perrier y Anna de Codorniu, regalos de Saint John Shoes, Cleveland, Srixon, Volvo, Reboraina, Beefeater 24, Heineken, Socketines, Ibéricos Blazquéz, Capricho Andaluz, Reservas de Marqués de Riscal, polos God Save My Swing, Birdigan entre otros… y más de 6 viajes fin de semana.
El ganador que defenderá al Club de Golf Las Pinaillas en la gran Final Nacional y posteriormente en la Final Internacional del Circuito Corporate 2014 en Le Touessrok Golf Course en Isla Mauricio fue Joaquin Rodriguez con un espectacular resultado de 43 puntos Stableford.