Golf Confidential . Editorial – Caderot Michelangelo , 12/22/2013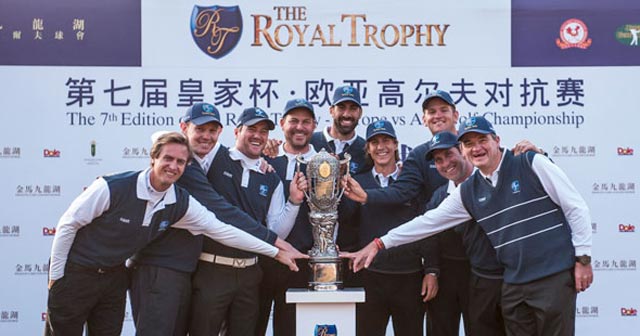 Alvaro Quiros joined midpoint on the final day .
This week , Christmas Eve, was held only a professional competition with Spanish participation , The Royal Trophy, which was played in China with the help of Alvaro Quiros.
Golf Confidencial. Redacción – Miguel Ángel Caderot, 22-12-2013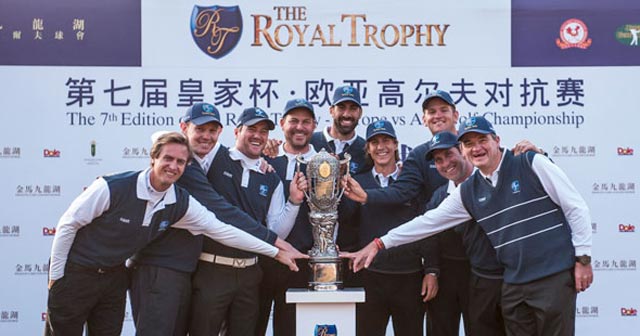 Álvaro Quiros sumó medio punto en la última jornada.
Esta semana, víspera de Navidad, únicamente se ha celebrado una competición profesional con participación española, The Royal Trophy, que se ha disputado en China con el concurso de Álvaro Quirós.
The test has resulted in a victory in extremis ( 8.5 to 7.5 ) in the European combined led by José María Olazábal , who has added their fifth title in six editions of the competition.
Individual Sunday seemed ripe for the victory of the Asian box , the first points of the day hand Kiradech Aphibarnrat and Thongchai Jaidee said was consummated stage. But Olazabal applied the same recipe as in the last Ryder Cup and started the comeback.
At this time , Europe did not move one more game : five wins on a tie Alvaro Quiros to the South Korean KT Kim , who scratched midpoint on the 18th hole .
After the first two days , the Asian leading the race combined 5-3 . The first day of the foursomes , ended with 3-1 in favor of Asia, while the second set of fourballs ended with a distribution of points (2-2 ) that fed European options comeback. In these two days , Alvaro Quiros joined midpoint Belgian Nicolas Colsaerts company .
La prueba se ha saldado con una victoria in extremis (8,5-7,5) del combinado europeo capitaneado por José María Olazábal, que ha sumado su quinto título en seis ediciones de competición.
Los individuales del domingo parecían el escenario propicio para que se consumase el triunfo del cuadro asiático, que se apuntó los primeros puntos del día de la mano de Kiradech Aphibarnrat y Thongchai Jaidee. Pero Olazábal aplicó la misma receta que en la última Ryder Cup y se puso en marcha la remontada.
A partir de este momento, Europa no cedió ni un partido más: cinco victorias por un empate de Álvaro Quirós ante el surcoreano Kim K.T, que arañó medio punto en el hoyo 18.
Tras las dos primeras jornadas, el combinado asiático lideraba la prueba por 5-3. La primera jornada, la de los foursomes, se saldó con un 3-1 favorable a Asia, mientras que los fourballs de la segunda manga terminaron con un reparto de puntos (2-2) que alimentaba las opciones de remontada europea. En estas dos jornadas, Álvaro Quirós sumó medio punto en compañía del belga Nicolas Colsaerts.