Golf Confidential . Writing, 05/05/2014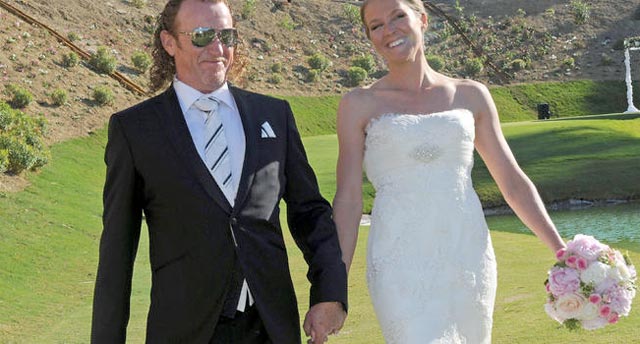 A third time lucky , that's because thinking golfer Miguel Angel Jimenez and today he married an Austrian economist nothing more and nothing less than 20 years younger than him.
" I do not care what my ID, I feel young . Just turned 50, but age is in the head . And my head for not thinking of doing things. If you think you're old, you limit yourself you . I can not stand " these are the words Michelangelo to Golf Digest , which has published LOC.
The oldest player ever to put on the best ranking of golfers has decided to go one step further with his girlfriend and was going to give the "Yes I do" at the Malaga golf that bears his name. Susanne Styblo , that's the name of the lucky young man who will become the wife of the athlete, and that keeps the " pisha " in top form.
Michelangelo, an Andalusian , who likes to enjoy life , and proud of it , could not have a normal ceremony , so after being known his famous barbecues where nobody is missing , your wedding will surely much to talk about . For the ceremony chose the "hole 7″ , a replica of the " 12th hole " of Augusta, one of those who have left more traces in Churriana golfer .
Jimenez married first marriage Monserrat Bravo , with whom he had two children , came after Marian Jimenez , who came not to marry, but did not last long and now thanks to Susanne golfer is back to happiness. The couple is living in Churriana, whose climate favors the golfer much work , and their personal welfare .
We hope that this may be the final and with Susanne finds happiness forever.
Login
Newsletter
If you are not Partner with no need to subscribe. You will automatically receive the Newsletter.
Publicidad
Convenios con campos